Click on picture to see larger version.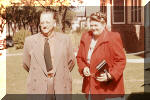 This is a picture of Henry and Elna Peterson. Elna (Elna Margareta Birgitta Vikberg) was Elna Johnson's (Helgsten) cousin. Henry and Elna had two children. They are:
Roland Henry Peterson, born on May 18, 1924.

Ivan Randolf Peterson, born on June 19, 1926.
The Peterson family, along with being related to the Johnson and Helgsten families, have been close family friends.
The following was provided by Ivy-Jo Dumas, one of Ivan's children:
Ivan Randolph. Peterson born 6/-19-1926 and Joyce
Joanna Morrison born 10-27-1930, married 7/17/1948, Divorced 1/1969, 6 children
(1) Ivy-Jo Marie Dumas (Peterson) born 6-6-1949 married 8-22-1986 to William
Edwin Dumas born 7-14-1950 two sons Joshua David Dumas 9-27-1983 and Gabriel
Joseph Dumas 6-17-1987
(2) Michael Jeffrey Peterson born 10-2-1950 Married 5-25-1974 Carolyn Marie
Peterson (Shook) born 2-25-1953, two daughters Jemma Michelle Peterson
6-6-1979 and Jenica Leigh Peterson 8-25-1981
(3) John Charles Peterson born 2-15-1952 Married Shyla Peterson (Saeger)
1-22-1971 dissolved April 1975, Married April 26, 2004 Myrna Peterson
(Flores) born 4-11-1973- 1 son? Due 12/04
(4) Donald Edmund Peterson born 8-8-1960,
(5) Lisa Ann Peterson born 3-18-1963,
(6) Chris Janelle Sather (Peterson) born 1-23-1967, married 8-05-1989,
James Dale Sather born 11-18-1963, two children, daughter Jordan Brittany
Sather born 3-26-1993 and son Austin James Sather born 5-30-1995

Additional biographical information on other Peterson family members will be added as it is made available.